I have been anxiously waiting for the premiere of Fashion Hunters on Bravo tonight. Finally, a show about the thrill of finding luxury fashion items for a fraction of their retail value.
In the series premiere of Fashion Hunters, we meet Tara, Ambria, and Karina who are the lifeblood of upscale consignment store Second Time Around, located in New York City. In episode 1, they consign a $6,000 dress once worn by J. Lo, authenticate dresses and visit the closet of socialite Eva Jeanbart-Lorenzotti, who consigns items worth over $3,000 to the store. Plus, the staff will welcome a new employee, Wilson Payamps.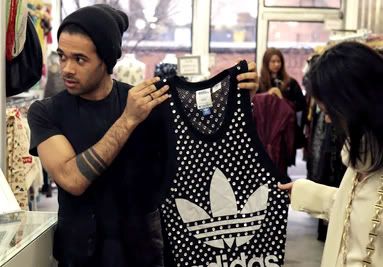 Wilson stands to be my favorite cast member (sorry ladies). Not only is he utterly fabulous and handsome, but he also happens to be from the Dominican Republic, just like yours truly. The series premieres tonight at 10:30/9:30 central on Bravo. In the meantime, here's a clip of the show giving-second-chances-to-the-hottest-labels.
So will you be watching Fashion Hunters tonight?