I met Dree in 2011 at the Blogger Brilliance Conference. Her style immediately caught my eye, in a room of fashion bloggers, she definitely stood out. Dree Harper is a stylist, personal shopper, and an HSN fashion expert. Not only is she one of the sweetest women you will ever meet, but she is just as stylish and chic. Without further ado, meet Dree.
When did you first realize you had an affinity for fashion? I found myself raiding my mother's closet at an early age. I'd go through her things and try gown after gown on, as well as, her heels, jewelry, makeup and perfume. I was busted by my 6th grade teacher when she demanded to know just who was wearing all that perfume! My mother left for work before I left for school and the raiding would usually happen then. I'm pretty sure the teachers were concerned that I was wearing blush and lipstick at that age.
Who influences your personal style? "Collegiate Gypsy" is what I've proclaimed my personal style to be. It's a culmination of influences coming from 70s bohemian icons like Talitha Getty, Ali MacGraw (Bohemian meets Preppy Goddess), Cher and Jimi Hendrix (I know he's a guy but his style was amazing) as well as, American Prep from the likes of Ralph Lauren, J.Crew and have you seen Tommy Hilfiger's fall/winter collection? Perfection. I love to mix the two styles together so it's not so easy to nail down. But like any fashion lover, I'm constantly experimenting and enjoy doing so.
What was the first vintage purchase you ever made? And what was that experience like for you? Oh my gosh! I really can't remember. I've been thrifting and vintage shopping since I was able to walk and keep up with my mom. I'm pretty much a mini me of my mother and so I have memories of going into a thrift or antique store with her and going off in separate directions, only to come together with our hands full of finds. Early on, I was addicted to the thrill of the hunt. You never knew what you were going to find. Combine that with a competitive spirit to refine your hunting skills and I was hooked. Immediately.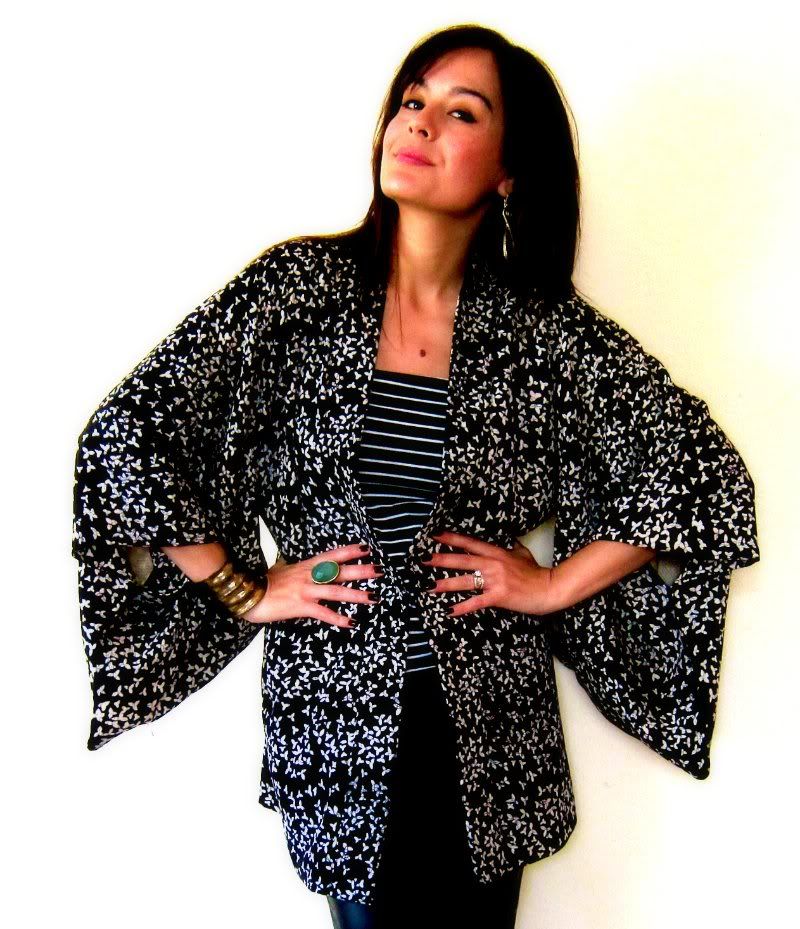 How did you get started in the fashion industry? My first job was a sales gig at a local hipster shop in Seattle called Mr. Rags. I was 15 and the owner loved me because I could really sell clothes. In my early 20s, I lived in Aspen, Colorado where I helped manage a consignment shop called Gracy's. We had over 40,000 consignors and high-end designer labels as well as amazing vintage sold there for top dollar. I did everything from window displays to pricing, to accepting what came in. I learned so much at that time and used eBay (in it's second year of business when people had no clue what it was) as a way to source vintage fur coats and resell them in the shop. That's when vintage was cheap and plentiful on eBay and I made a killing at Gracy's. That poured over into a styling career as well as owning my own online vintage boutique The URBAN Collection. Looking back, I realize I was born to do what I do. It's a big part of my creative existence and I'm happy to live the life I do.
How did you transition into becoming a stylist, personal shopper and eventually an HSN fashion expert? Styling came after moving back to Seattle where I was asked by a well-known hair stylist to help with a shoot he was doing for his salon. He knew I was into fashion and vintage and asked me to bring my collection to the shoot. That was my first official gig. I lived in downtown Seattle during the post-grunge years where vintage reigned supreme for street style, and I really enjoyed that time as both a stylist and street hipster – although I'd say my style has changed since those days. Thank goodness! When I moved to Florida, I started selling (instead of buying) vintage on eBay and through my account, I was discovered by a production company looking for local talent to work with HSN. I started as an on-air rep for Jordache then eventually was hired on as a "Fashion Expert & Stylist." I am the person they come to when a line might not have a spokesperson and they need someone with fashion expertise to banter back and forth with the host. The personal shopper gig is relatively new. I'm constantly buying vintage for both my friend's shop, Misred Outfitters and myself, so I decided I might as well extend my services to people in the industry that might not have as much exposure to the vintage I find. I'm working to build a small clientele that embodies fashion personalities and professionals, all with different styles and body types. It is SO MUCH fun shopping for someone you know. The thrill of the hunt is amplified because you get to share the thrill with them when you show them what you've found. I love it.
What do look for when you are shopping for vintage pieces? Textures, quality, color, prints. I had to train myself to be a "basics" shopper after becoming a Mom. If I could, I'd have an entire collection devoted to unique vintage pieces. The kind of stuff you need a special occasion for. I've bought and sold soooo much vintage in my life that it takes something really special to captivate me. You'd be surprised at how disciplined I am. I have a highly-edited closet and really evaluate what I let in. I don't hoard.
What are some of your favorite pieces currently in your closet? and why? My Japanese Kimonos; specifically Haoris (pictured above), which is a shorter jacket style. I wear them as blazer or cardigan replacements. All are vintage, sourced from Japan, mainly through Etsy. I am highly influenced by old world Japanese glamour. My 70s YSL Rive Gauche black blazer (fits me perfectly and is classic) that my mom gave me. It's 40 years old and will serve me well for the next 40. A huge 70s, silk leopard print scarf by YSL as well, also from my mom. It's both chic and whimsical with actual leopards mixed into the print. My father's gold Seiko watch. I saw it on his dresser last year when I went home and he said he never wore it so I took it! I remember shopping for it with my mom over 25 years ago and I don't take it off except to shower. It's a very sentimental piece for me.
What advice would you give my readers about finding their personal style? I cannot stress this enough. Educate yourself first and foremost on what looks best for your body type. Trinny Woodall and Susannah Constantine's book "What Not to Wear
" is very informative. Once you've nailed down your best silhouettes, experiment. Let pros like Amanda Brooks educate you on types of style so you know what you resonate with. Her book "I Love Your Style: How to Define and Refine Your Personal Style
" is probably the best $20 I've spent on not only an educational fashion book but one that has tons of eye-candy photos. It's truly inspiring. Personal style is bound to develop when you're educating yourself and experimenting. Fashion should be fun and make you feel fabulous.
What advice can you give us about shopping vintage? Be willing and patient. Whether you are thrifting or visiting an antique/vintage shop, go on days when it's not going to be picked over. I don't shop vintage on the weekends if I can help it. And if something is amazing but not your size, look it over and see if alterations could help with a proper fit. I keep my seamstress in business, I swear. If you really love something and think, "wow, that's kind of pricey for a thrift store," buy it. Compare with mall prices and a classic, Coach leather satchel for $20 or a gorgeous 70s maxi for $15 will quickly be someone's treasure if you don't act on it. These things don't get restocked! And if you're new to vintage, know that your instincts are correct. Not all vintage is cool, trust your eye for quality, uniqueness of prints or textures. Think of vintage shopping as just a way to broaden your style tastes, simply because you are increasing your choices to encompass different eras.
Which item in your closet would you never, in a million years part with? My black 70s YSL blazer I told you about because it's vintage perfection and this amazing 50s Vicky Vaughn sheer, ruffled, nude cocktail dress. It's my Carrie Bradshaw dress and I have yet to wear it. I almost brought it to Paris for our one year anniversary but it took up way too much room in my suitcase. I'm waiting for that perfect moment to pull that baby out!
Thanks Dree! I hope you enjoyed getting to know her as much as I did. Connect with Dree on Instagram or twitter.