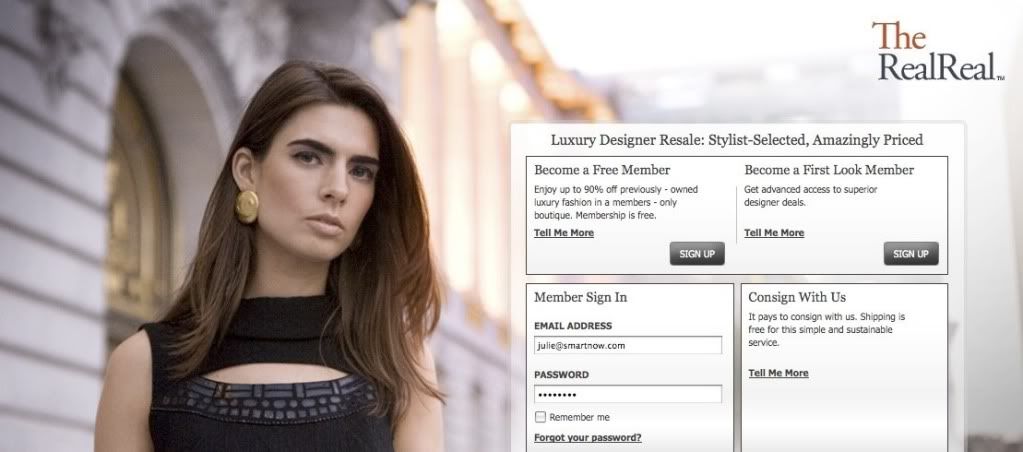 The RealReal.com is a stylist selected, luxury designer resale website. What I love about this website is not only the fact that they make luxury designer pieces available to us through a free membership, but that they have on-going sales. New sales are launched regularly at 10am PST/1pm EST. My favorite sale is their 72-hour sale featuring seasonally-focused premier designers. They also have an ongoing warehouse sale which mixes luxury casual wear, designer diffusion lines, and gently-worn accessories for fractions of their original cost. Their team of tastemakers hand-select The RealReal's inventory to insure each piece maintains the highest integrity of quality and is authenticated by professionals.
The company was founded by e-commerce industry veteran, Julie Wainwright. She recruited top stylist, Marcy Carmack, as her co-founder. I recently had an opportunity to interview Julie and Marcy. So without further ado, meet Julie and Marcy.
When did you ladies realize you had an affinity for fashion?
J- My mother studied fashion illustration at the Chicago Academy of Art (now the part of the Art Institute of Chicago). My father is an artist too. We had fashion illustrations framed on the wall. My mother trained me on the color wheel and how cut and color can enhance features — all before I was in first grade. We used to build our own cardboard Barbies, design their clothes our of paper and then my father would build a cardboard house for our cardboard Barbies.  I was indoctrinated at a very early age.
M- I got a Jordan Baker 'Chic Chick' Award from a classmate in high school English Comp class after we read The Great Gatsby. He carved a little hand made plaque that I still have today.
Who influenced your personal style?
J- My mother. I have a lot of curves in a short space.  I like simple lines and classic styles.
M- My father influenced my style by being an individual thinker, which is not what most people think of first when it comes to style. I don't think there is real style without that quotient. Aside from my father, I think that my style is a reflection of my personality. I didn't look toward movie stars or style icons, I intuitively and naturally developed my style which is a large part of how I work with clients as a stylist.  Speaking of style icons, one of the biggest compliments I was ever given was from the CEO of Verdura. He said I wore their jewelry so well that I reminded him of Babe Paley. Since then, I have had a fascination with her and you will find her on my blog which can be accessed on The RealReal or by going to marcycarmack.blogspot.com.
What was the first consignment store purchase you ever made? And what was that experience like for you?
J- I happened to buy a Chanel jacket at a great store called What Poppy Wants.  Valerie Singer is the owner there and she really knows her stock and appreciates the beauty and quality of designer merchandise.  I love her passion and I stayed there for awhile to watch her help customers. That is the spirit we want to inject at The RealReal – passion, knowledge and service.
M- A Louis Vuitton navy and black trench (I have always loved wearing navy and black together). The experience was like going on a treasure hunt. Marc Jacobs does such an amazing job with this line, the clothes are exquisitely made and come with exquisite prices! It was so exciting to find something so fabulous at such a great price.
What made you decide to start The RealReal?
J- A close friend of mine and I were shopping in a beautiful boutique that had some curated consignment in the back of the store.  This friend would never walk into a typical consignment store, but this store was so beautiful, she was comfortable shopping consignment there.  She also trusted the owner's judgment.  I wanted to create that type of store online.
M- My partner Julie Wainwright had the idea and started looking for the fashion part of the equation to co-found the business with her. As luck would have it, we were introduced by a mutual friend. I found Julie extremely engaging and dynamic. I thought it was a great idea because it had never been done before, the timing was right and I loved the idea of elevating consignment which is historically hard to do in a brick and mortar from a merchandising point of view.
Come back on Wednesday for the second half of my interview with Julie and Marcy. In part two, they share what makes The RealReal different from other online designer resale destinations, consignment shopping advice and their favorite pieces currently available on The RealReal.